The BMA doctors' union says the 3% pay rise offer for NHS staff in England is "bitterly disappointing".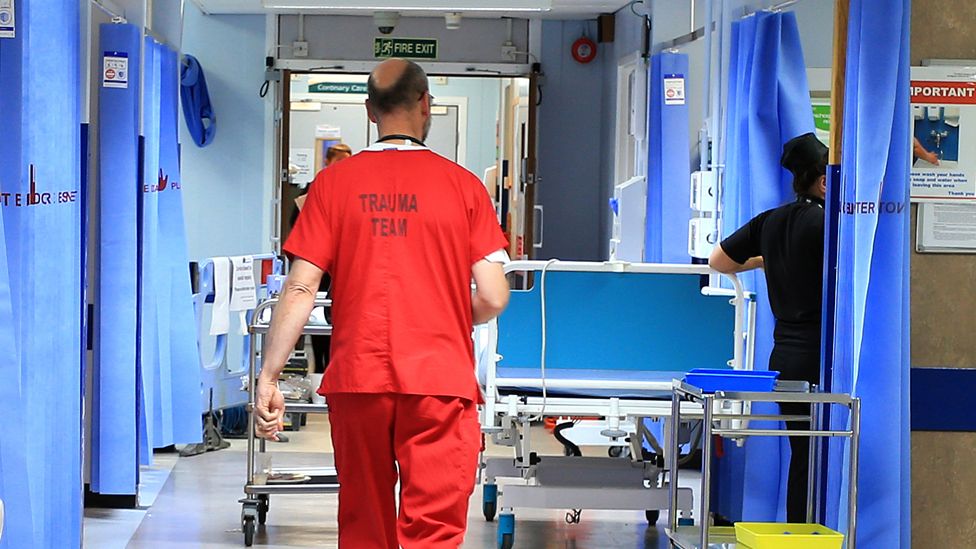 Senior doctors in England will be asked whether they want to consider industrial action over the 3% pay rise offered by the government.
The British Medical Association union says tens of thousands hospital consultants will be contacted.
It previously said industrial action may be considered if senior doctors were not given at least a 5% rise.
The Department of Health was criticised over its previous stance that only a 1% rise was affordable.
It is for most NHS staff in England, including nurses, paramedics, consultants, dentists and salaried GPs and is backdated to April 2021.
But the BMA, which represents doctors, said whilst the latest pay offer represented an increase on the government's "paltry" 1% offer, it was still "well below" the 5% minimum pay rise its consultants' committee had been calling for.
It argues that senior doctors are exhausted and feel undervalued because of previous below-inflation pay rises.
Dr Vishal Sharma, the chair of the BMA's consultants committee, said the pay offer was "bitterly disappointing" and showed "once again how little the government values the dedication and expertise of consultants in England – many of whom have been brought to the brink of breaking point by the pressures of the past 18 months".
He added: "Consultants have given their all in leading the fight against Covid-19, some at the expense of their own health, others with their lives. And this pressure will only intensify as we begin to tackle the backlog of delayed treatment caused by the pandemic."
Consultants have not taken industrial action since the 1970s, apart from a day of action over pensions in 2012.
The BMA has previously said industrial action by consultants would involve stopping paid and unpaid overtime, which would affect patient clinics and attempts by hospitals to reduce waiting lists.
The findings of its survey will be reviewed by the union and help leaders decide whether to proceed to a formal ballot.