Juan Zurita AKA _getithowyouliveit: Up and Coming Artist of 2021
Juan Zurita is a graphic and motion designer from the west coast. Working with a number of musical artists, he has designed a number of album covers, merchandise design, advertisements, covert art, and 3D designs. His portfolio has content created for a number of big artists such as WolfTyla, Ariana Grande's creative directors, Sony, and a few others.  
His Instagram page is of his work and his creative design is a topic of discussion amongst the famous clients he works with. "I didn't expect any of this to happen the way it has," Juan says. "I was just having fun and creating designs that I liked or were inspired by something I liked and would post it. Everything just kind of grew from there." Juan's brand, _getithowyouliveit is a trendy influenced space that calls home the current generation of pop culture and design. "I have always been a creative person, so what I'm building isn't far off from who I am and what I like." The world of _getithowyouliveit is mostly album covers, clothing merch design, and images that have been redesigned with Juan's touch.
Juan Zurita was first noticed by Photoshop's official instagram after he posted a few designs using their software. He started out in photography over four years ago. He was inspired by the photo manipulations and other designs that he saw on Photoshop's instagram and began following other artists that did the same. Not long after, he was featured twice on Photoshop's page, people began reaching out, and he started designing album covers for clients. His focus began to grow to directing cover art for music artists, labels, and brands. "I love this aspect of my job. I love helping to create visual identity for my clients," Juan says, smiling. 
Juan's identity is something that has grown with him. Growing up and currently hailing from the Bay area, he has been surrounded by arts and culture most of his life. The designer's brand _getithowyouliveit was born there. For his future, Juan feels really passionately about it. "I really hope to work with a label or become an Art Director," Juan says excitedly. "There is strong importance for networking to make that happen."
Juan's network is growing, he recently had been invited by an artist to be trained further as a graphic designer. His movement into the unknown has been a bit of an adjustment for him. "I work full time in tech and full time as a designer and one of the hardest things I had to overcome was my time management," Juan says. "I can say now that it has been easier to deliver and I take pride in that ability to have designs ready by a certain time." He used to feel like he had to be in a certain "creative zone" to create things, which is something he still has moments in, but because creativity breeds from other creative inspiration, he has ways to stay motivated for the future. "I had a Facebook internship in 2019 for tech not design, but I was so influenced and inspired it was amazing. I take what I learned there and easily apply it to my design and motivation," Juan explains.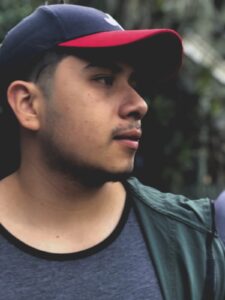 Juan's designs are clean, structured, and captured, and a lot of his photography brings you into a singular moment, creating intimacy and awe. His more futuresque designs are carefully constructed and eye-catching drawing you back to it. His collage work makes a busier scene that invites you in and leaves you connected with its design.  A lot of his photography is found here but his current website contains more album art and current designs with motion and 3D designs. 
Juan Zurita of _getithowyouliveit is an up and coming designer. With talent and creativity, he has constructed scenes with wonder and passion that replace reality and continue to draw his audience back in again and again.