Investing with Diversity Disabled Investment Manager, Luka Erceg
Meet Luka Erceg, a successful entrepreneur and investment manager that makes sure your personal and company dollars are optimally invested. Notable for his drive to implementing new technologies and strategies that drive growth, he channels that same motivation to provide an array of services to help his investment clients. "We focus on the intersection of strategy and finance and deliver like a Fortune 500 with the agility of a startup." 
Luka uses his platform to spread awareness and make an impact for disabled persons. He is actively advocating for the democratization of capital for people with disabilities. He has plans to start with himself, creating change within his own company in the near future. He details us on his expectation of the future of this industry. "It is changing and needs diversity. They (companies) need to change the conventional manager approach". When asked about the growth of his company, Luka looked excited. " We are expanding and hope to launch our own limited partnership investment vehicle at some point in the near future. Our investment strategies will range from core equity investments, to growth, distressed and activist investing, while providing impact investing benefits by employing disabled managers.  We are also interested in acquiring  and adopting registered investment companies such as mutual funds, closed end funds, BDCs, etc."  
With many years of hands-on learning in the energy sector, he gained skills in investment management, turnaround and restructuring, and raising capital.  Luka understands value creation and the concept of competitive advantage. Which is precisely how he was able to launch his lithium company years ago, that led the way in US geothermal lithium production.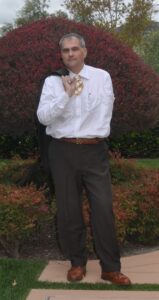 Currently seeking clients that he can assist with investment and asset management needs. Luka manages risk and investments for clients on a discretionary basis through his firm Dynamique Capital Advisors. "Whether it be individuals, non-profits, churches, foundations etc., we leave no stone unturned in our quest for value creation." he says. Combining a background in finance, business, and law, he provides services to supporting 401Ks, 403b, and pension plans, and even new entrepreneurs launching their first companies that are looking for ways to recruit and retain top talent.  
Luka has plenty of years under his belt perfecting his expertise in investment management, coupled with a strong educational background. He has an MBA in strategy and finance at Rice Business, LLM at University of Houston Law Center, and JD at South Texas College of Law and is both a Certified Insolvency and Restructuring Advisor (CIRA) and a Certified Turnaround Professional (CTP) accredited by the Association of Insolvency and Restructuring Advisors (AIRA) and the Turnaround Management Association (TMA).  Having spent 25 years analyzing and making investments on behalf of companies and investors, then representing them, Luka has also served on the board of four privately held companies and some well known non-profits.
Following the loss of his arm in January of 2018, Luka focused on the goal of launching a fund. The challenges are not inconsequential as he faces this journey in the financial services industry. Luka has had his share of challenges, "I've had many, and overcoming them comes down to people and relationships". Luka endured the amputation of his left arm from shoulder down, and instead of succumbing to the opposition to disability, he uses his experiences to fight for business disability inclusion and is a proud member, and his firm is a Disability Owned Business Enterprise (DOBE) of DisabilityIN. DisabilityIN is a nonprofit resource for disability inclusion worldwide. The organization encourages business to envision a global inclusive economy where people with disabilities can participate fully and meaningfully.
Minor bumps in the road have hindered Luka on his journey as an emerging investment manager, he knows some of those mistakes were avoidable, and he knows there will be more. He advises upcoming entrepreneurs to, "spend time getting to know an industry. Don't be so arrogant as to think that you can make changes overnight." 
Luka is dedicated to his investor and team, managing portfolios in a way that meets the needs of clients that are in varying stages of their own investment journey.