Covid-19: Could a third wave change 21 June plans in England?on June 7, 2021 at 5:05 pm
Rising coronavirus cases have called the planned 21 June relaxing of rules in England into question.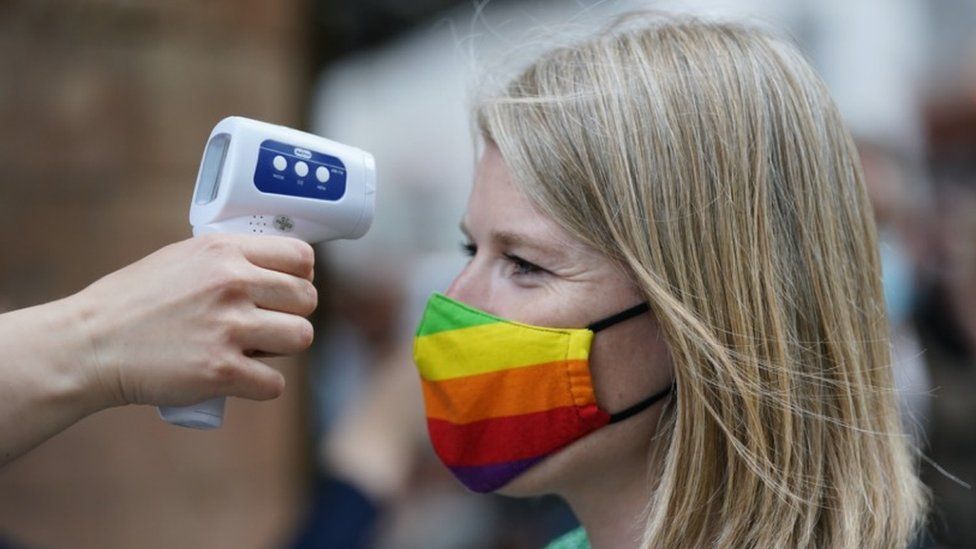 Coronavirus cases have roughly doubled in the space of a week, though numbers remain low compared with earlier in the pandemic. So how significant is this, as the government considers lifting the last set of restrictions in England on 21 June?
It's difficult to judge what direction the virus is going in from just a few days of data – cases fluctuate and can be skewed by how many tests are being done. But, for the past fortnight at least, there have been growing signs national cases are beginning to rise.
And this relatively small uptick disguises much larger spikes in cases – and some rises in hospital admissions – in certain areas. These include the north-west of England and also large parts of Scotland, although in some of these areas cases are starting to fall again.
As we know from experience, what might look like a small blip can quickly spiral into a big wave if enough people are still susceptible to the virus.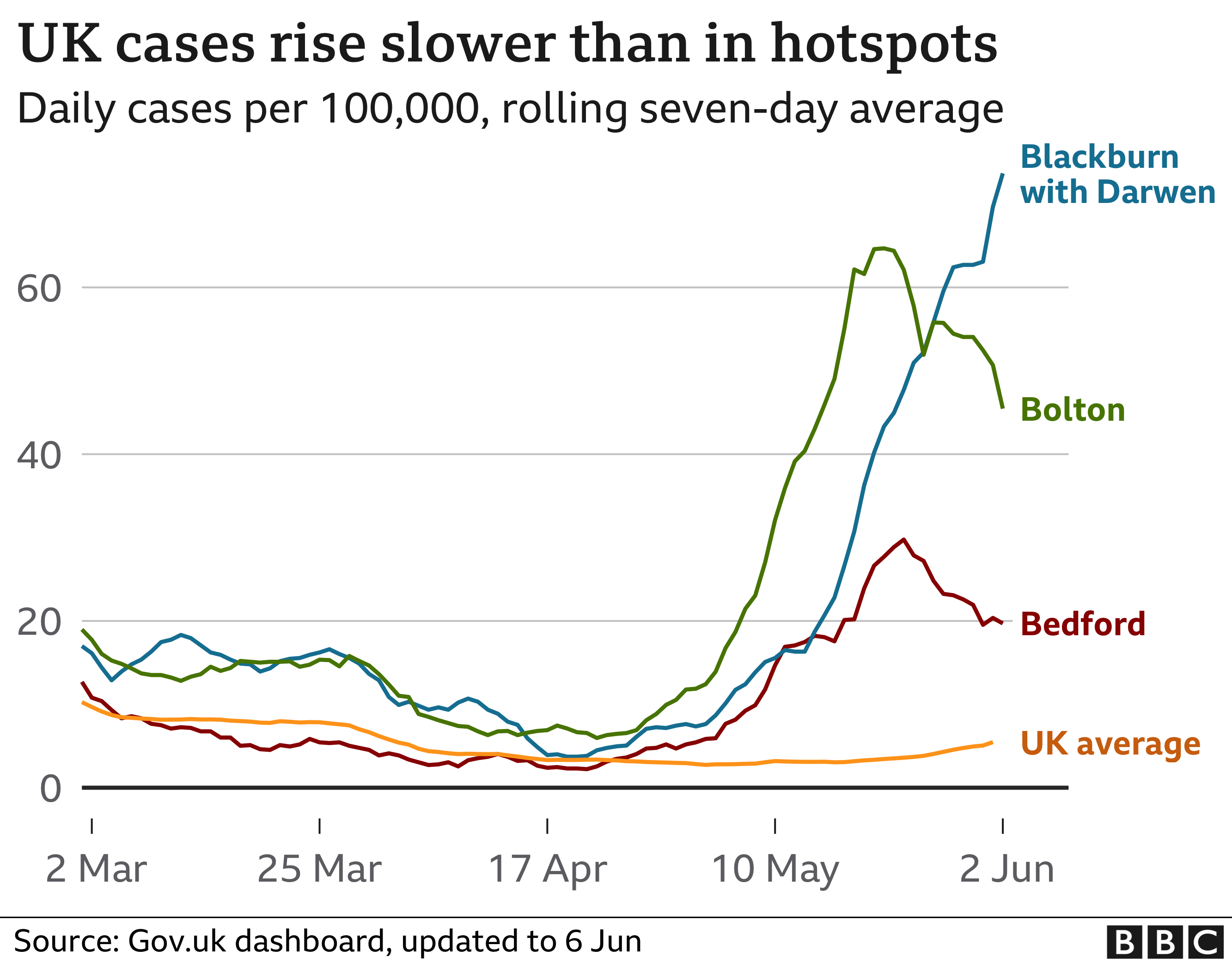 The virus doesn't have nearly the same opportunity to take off as it did at the start of the winter wave.
Half of all adults in the UK are fully vaccinated and three-quarters have received their first jab and this is rising all the time. But that still leaves millions of people who are vulnerable to catching, spreading and becoming ill from the virus.
The more people who are fully vaccinated, the less chance of the virus spreading and the epidemic taking off again.
There have been two major waves of infection during the UK's epidemic – in spring 2020 and in the past winter. Although there was the beginning of a resurgence in cases in the autumn, it was contained by a national lockdown in November – resulting in a "bump" in cases rather than a fully-fledged wave.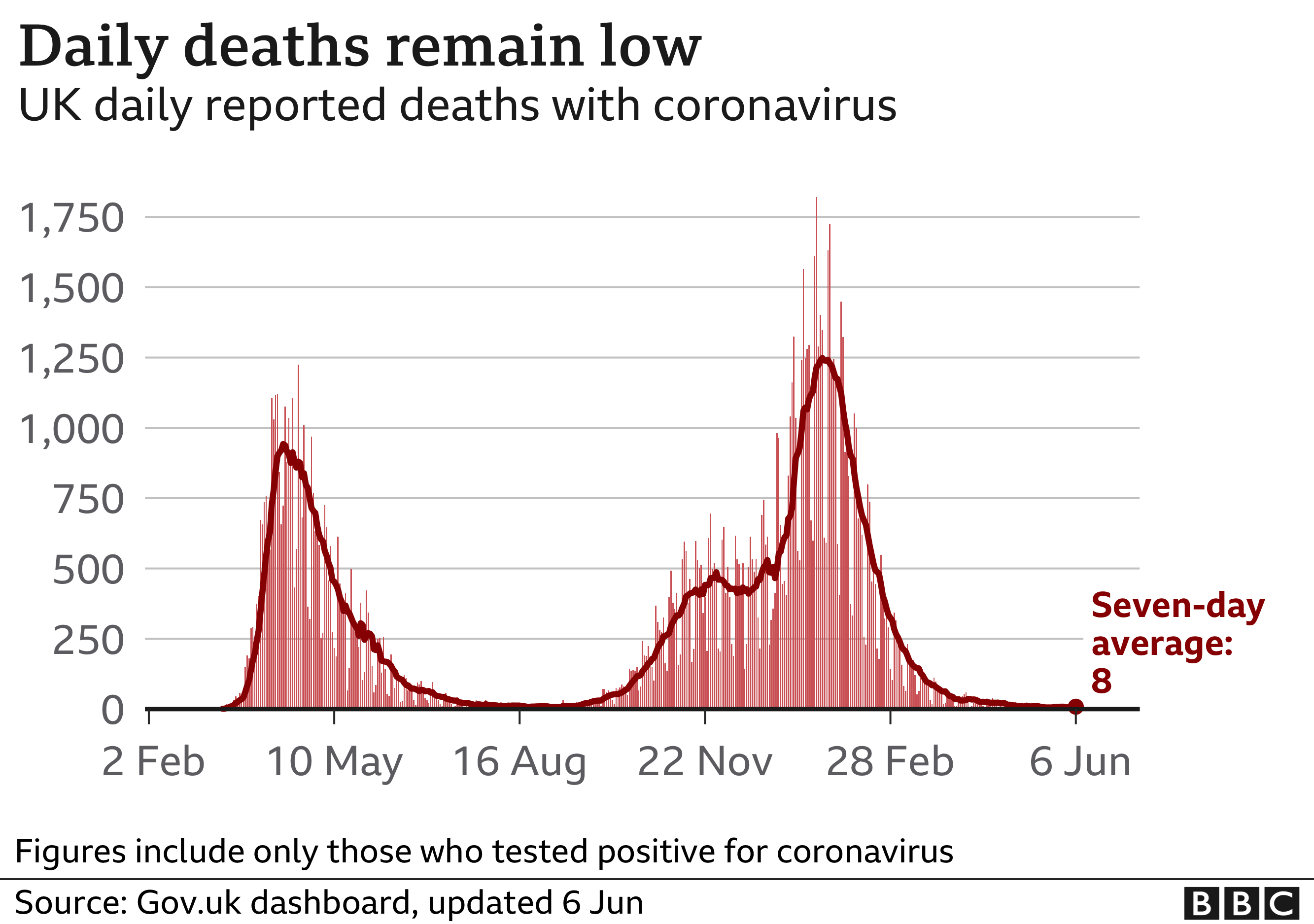 What we're seeing now is far from a full-blown wave like the first two. However, the higher cases get, the faster they rise.
Recent data suggests cases might now be doubling every fortnight or possibly even faster.
That's faster than when the government's scientific advisers recommended a lockdown in September (although the true number of infections then, was partially disguised by shortages in appointments for testing, meaning infections weren't being diagnosed.)
But at that point hospital admissions were doubling every fortnight, whereas now they have only just started to tick up nationwide.
This suggests even if cases rise, vaccines are stopping many infections progressing to serious illness.
On Monday 7 June, Health Secretary Matt Hancock said that of 12,383 cases of the so-called Indian or Delta variant, 126 ended up in hospital – and just three of them involved people who had been fully vaccinated.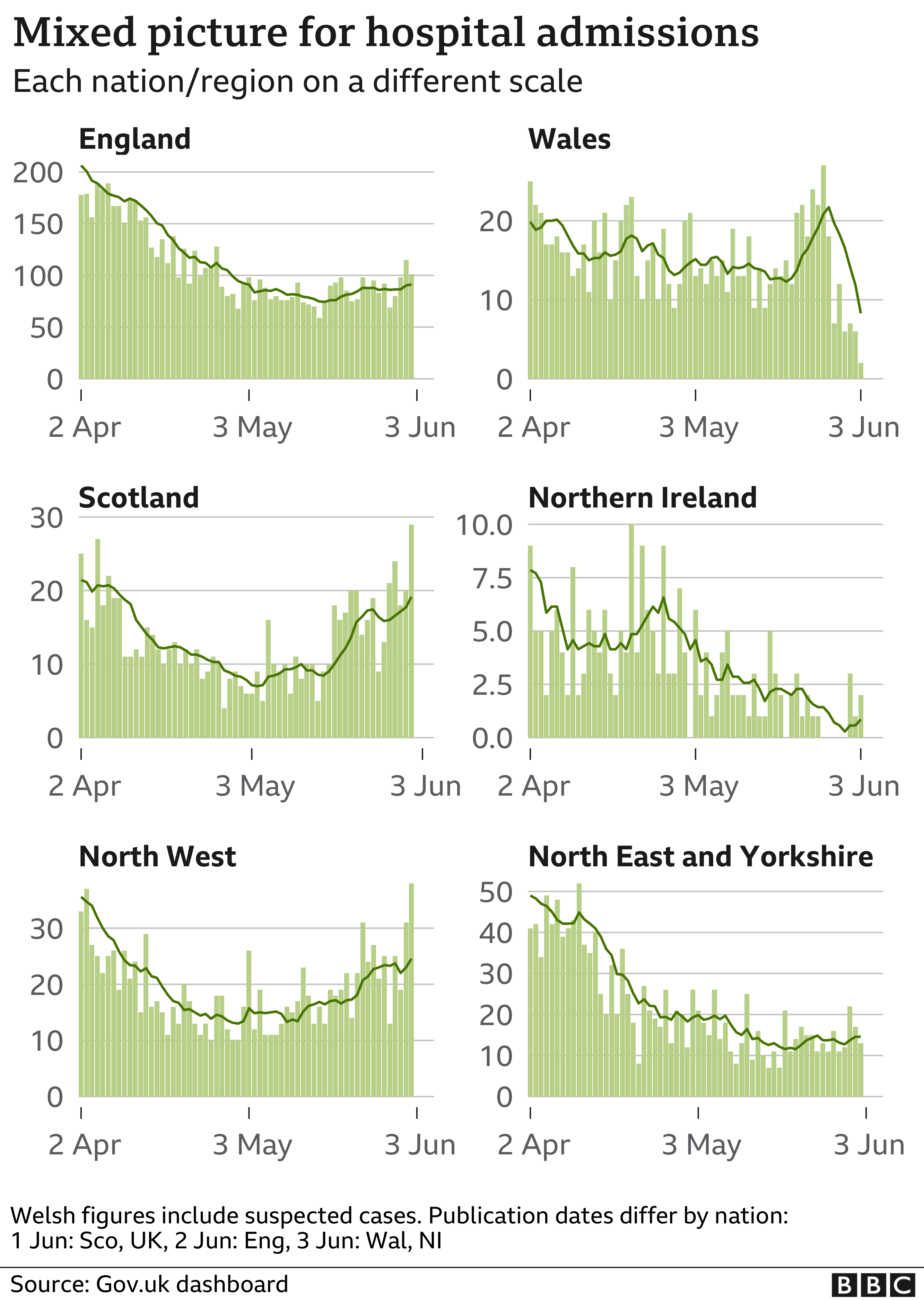 Experts have expressed concern that hospital admissions are rising again in areas affected by the so-called Indian variant.
The question is whether this rise will continue or level off, and whether it will spill out into other parts of the country where admissions are currently falling.
In some hotspots like Bolton and Bedford, cases already appear to be coming back down. Given it takes time for a case to turn into a hospital admission, we might expect to see those numbers start falling in these areas too.
But at the moment, we're in a "wait-and-see" phase. Cases have only just started to rise across the UK, so it will take some time before we know how much that leads to a rise in hospital admissions – and if they are concentrated in the unvaccinated population.
Public health leaders in areas like Bolton have said many of their hospital patients were not yet, or had only just become, eligible for the vaccine.
This has led some scientists to call for the 21 June date to be pushed back to allow more people to be fully vaccinated, before allowing unrestricted mixing at weddings and clubs, and inside people's homes.
Prof Ravi Gupta, at the University of Cambridge, has said the UK is already in the early stages of a third wave of infections, and called for the 21 June ending of restrictions in England to be postponed.
His fears have been echoed by Prof Andrew Hayward, a government scientific adviser, and Prof Christina Pagel, at University College London, who sits on a group which calls itself Independent Sage
But government adviser Sir John Bell, Regius Professor of Medicine at Oxford University, said he was "encouraged" by the numbers, before adding another week's data was needed before decisions could be made.
Prime Minister Boris Johnson and Matt Hancock have indicated they will wait for more data before making the decision.
The government is due to announce its decision on England's 21 June easing a week before, on 14 June, so next week's figures will be crucial.