Why You Should Visit the Beach on Your Next Vacation
Some of the funnest memories can be made on a southern beach vacation. With the crashing waves, the sights, the smells, and the BBQ, you'll feel so welcome and ready to party. Perfect for families, there are many things to do in North Carolina.
Get ready for the vacation of a lifetime and have so much fun with live music, amusement park rides, restaurants, and sandcastle making. Family time just got easier when you allow yourselves to relax and unwind on the beautiful Carolina shores.
The Carolina Beach Boardwalk offers amusement rides and fun for small children like a colorful carousel and fun slide along with carnival games and street food all summer long. Take a break from the sun and level-up in the Carolina Beach Arcade. Cool off, play games and win prizes just a block off the ocean. Attractions are open Memorial Day weekend through Labor Day weekend.
Let the Boardwalk be your launching pad for a one-of-a-kind adventure. Wheel around the island with Pleasure Island Rentals, where your family can rent any number of different bikes. Explore on the self-guided bike tour, which starts on the Boardwalk and leads you through sites in Carolina Beach, Kure Beach and Fort Fisher.
Always wanted to ride the waves, but didn't know where to start? Take a lesson from Odysea Surf School or Tony Silvagni Surf School, led by Olympic gold medal winner and world champion surfer Tony Silvagni. You can also rent surfboards, bodyboards, flippers, beach chairs, umbrellas, cabanas and even beach toys from Tony Silvagni Surf School.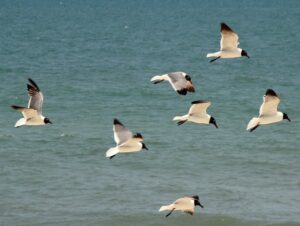 Immerse yourself in the colorful sights and sounds of the season at Carolina Beach. Be amazed by Fireworks by the Sea & Boardwalk Blast, where live music starts at 6:30 p.m. and fireworks launch at 9 p.m. every Thursday evening throughout the summer. The Carolina Beach Music Festival has taken place each June for more than 30 years and is the biggest and only music festival held on the beach on the North Carolina Coast. The Carolina Beach Street Arts Festival takes place each May.
One of the most memorable attractions is the portrait painters that wander the boardwalk and sketch a wide variety of tourists and locals. Mike Wilson is a popular vendor in the area and is looking to expand his portrait paintings and business ventures. If you would like more information you can reach him at 704-885-6652.
Variety is the name of the game when it comes to dining on and within walking distance of the Carolina Beach Boardwalk. Eat freshly steamed seafood at the Shuckin' Shack, or grab a slice or whole pie at Fentoni's Pizza. For authentic North Carolina barbecue, nothing beats Carolina Smokehouse. Enjoy juicy burgers and hot dogs as you step back in time to the 1950s at Pop's Diner.
Looking to grab something quick and hop right back on the beach? Crush & Grind is your local one-stop-shop for gourmet coffee, craft beer and high-quality wine. Cool down with a sweet treat like snowcones, ice creams, Italian ices and gelatos at Island Ice Factory, Krazy Kones, or Latella Gelato. Just beyond the Boardwalk — and well worth the walk — is Squigley's Ice Cream & Treats, which serves more than 4,000 ice cream flavors and Celtic Creamery, serving authentic Irish ice cream to help cool off from the summer sun.
When you want the best vacation, try a beach. The experience will be mind-blowingly incredible, relaxing, and keep you at ease the entire time. Let yourself relax at one of the most visited beaches in the US.