The government says it has met its target to offer all 16 and 17-year-olds in England a vaccine.
Young people have shared stories of the debilitating effects of long Covid as they urge others to get jabbed.
A new NHS video features the experiences of three previously healthy people as part of a drive to encourage vaccine uptake.
Quincy Dwamena, 31, said he delayed his jab and "ended up being hospitalised and thought I was going to die".
More than 360,000 people in this age group in England have now been given a first dose of the vaccine.
They are being invited to book an appointment with their GP or visit a walk-in centre.
He said: "My advice is to get the vaccine: don't put yourself and others at risk, I wish I'd got mine as soon as it was offered."
Megan Higgins, 25, and Ella Harwood, 23, were both previously healthy and active but are now suffering with extreme fatigue due to long Covid.
Ms Higgins, a special needs tutor from London, said that eight months on she still "can't even walk around the shops without getting exhausted".
She told BBC Breakfast on bad days she experiences all over joint pain and "that feeling of being absolutely exhausted from when you wake up to when you go to sleep".
"One of the things I really notice is my emotional resilience… when you're that tired everything hits you so much harder," she said.
"I had a knot at the end of my hair and trying to comb it out I remember getting so upset because I couldn't keep my hands above my head long enough to pick at the knot.
"I remember getting so frustrated that I wasn't strong enough to do it. I wasn't aware enough or awake enough. Something as silly as brushing your hair out can be emotionally really quite traumatising."
She said it was "definitely worth getting the coronavirus vaccine… because the long-term effects can be more devastating than the actual short-term virus for some people."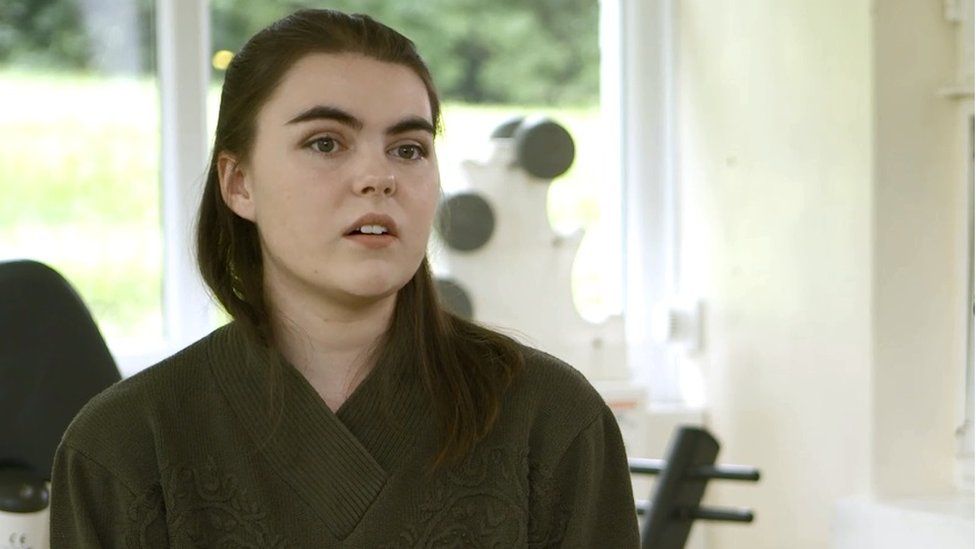 Ms Harwood, an illustrator from London, said she was bed-bound for seven months and fears she will "never be the same again".
She said: "I was fit and healthy I had literally no conditions. I was doing exercise and for about seven months solid and I genuinely though I might die that year."
She added: "My advice to anyone really, young and old, would be to get the vaccine because it's a naive way of thinking that you're invincible just because you're fit and healthy and you eat the right stuff."
All those aged 12 to 15 and considered at-risk in England have also been invited for a vaccination, the government said.
In Northern Ireland, older teenagers can book online or call 0300 200 7813. Walk-in centres are also open.
According to the latest figures, more than 47.6 million people in the UK – about 87% of over-16s – have now received at least one vaccine, with more than 41.6 million – 76% – having had both jabs.
On Sunday 32,253 new Covid cases were reported across the UK, as well as a further 49 deaths within 28 days of a positive test.
While the younger a person is the lower their overall risk from coronavirus, young adults can still get long Covid – which is when symptoms of the disease persist for an extended period.
The latest figures for England show people aged 18 to 34 now make up more than a fifth of those admitted to hospital with the virus, four times higher than at the peak last winter, and most of those are unvaccinated.
Having two doses of the vaccine approximately halves the risk of experiencing symptoms which last more than 28 days after becoming infected, according to research from King's College London.
Health Secretary Sajid Javid said: "Regardless of whether you're young, fit and healthy, these harrowing stories really show that Covid-19 can affect anyone.
"I encourage everyone to come forward for both their jabs as quickly as possible as vaccines are the best way to protect yourself and your loved ones from serious illness."
The government has been pushing to increase vaccine uptake among young people, with companies such as Asda and Deliveroo offering incentives to those who get a jab.
Meanwhile, pop-up vaccine sites have been opened across the country at sites such as London-based nightclub Heaven, as well as football stadiums and festivals.