How constituents and authorities reacted to the tragic killing of Sir David Amess.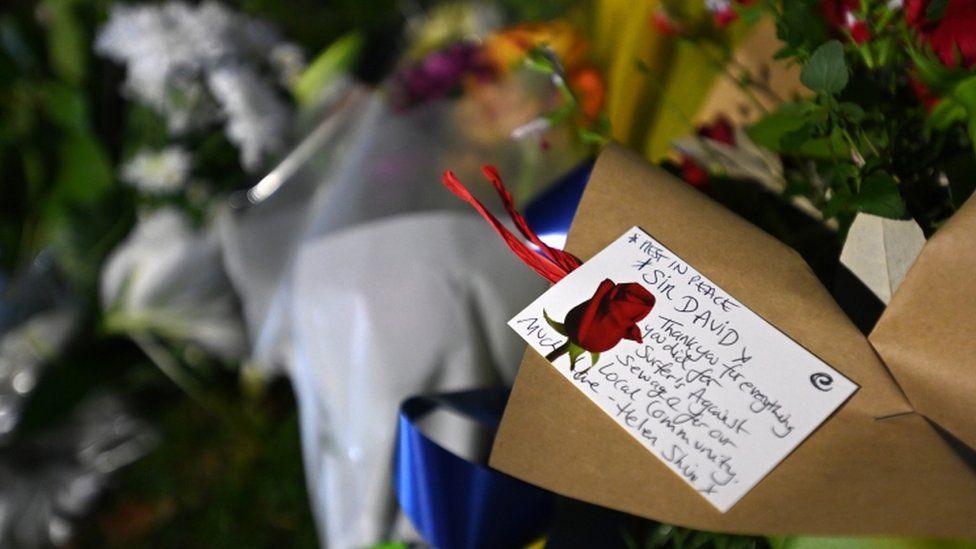 The day started out much like every other Friday morning for Sir David Amess. One of Essex's most longstanding MPs, he held drop-in meetings for his Southend constituents every second week, in recent years varying the location to meet more of the local residents that relied upon his help.
Sir David was known for being passionate about his job – and constituents and colleagues spoke of his boundless enthusiasm for his role. These constituency surgeries were at the heart of his political life.
Just 15 minutes before the attack, the 69-year-old father of five was spotted standing on the church steps, chatting and laughing with locals.
At around 12.05pm, accompanied by two female members of his staff and nearing the end of the drop-in event, Sir David entered the church to meet some more constituents, where he may have noticed the inscription: "All are welcome here: where old friends meet and strangers feel at home."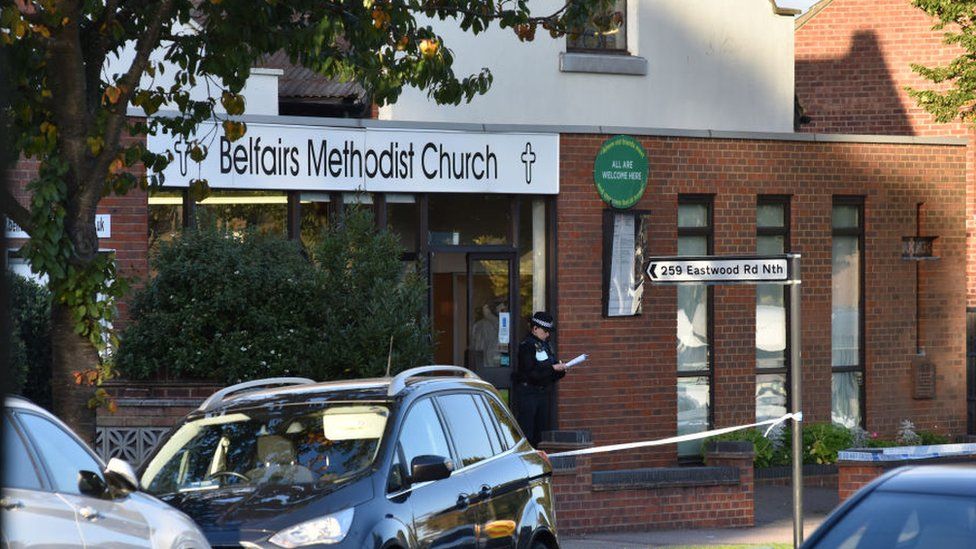 Local councillor John Lamb said that it was at this point that the attacker emerged from a small group of waiting constituents and attacked Mr Amess, stabbing him several times.
"I'm told that when he went in for his surgery there were people waiting to see him, and one of them literally got a knife out and just began stabbing him," Mr Lamb said.
Lee Jordison, who works at the nearby Hicks Butchers, told the PA news agency: "We could see a police cordon set up… (someone outside) told me a woman had come out screaming on the phone, saying 'someone's been stabbed, please get here soon', he's not breathing'."
Police arrived on the scene shortly after the stabbing, and arrested a 25-year-old man and recovered the knife used in the attack. At 1.50pm, Essex police confirmed that the man had been arrested in connection with the stabbing.
One witness, electrician Anthony Fitch, told Sky News that he had witnessed the man being led from the church and being put in the back of a police car.
"We arrived to do some work on the adjacent building… and at the point when I was crossing the road I saw an upset lady on the phone saying 'you need to arrive quickly, he's still in the building,'" he said.
"There were loads of armed police, overhead there was an air ambulance as well as a police helicopter. Obviously wondered what the hell was going on, you don't often see armed police around the local area.
"I saw the suspect get put into a police van, get taken away and then they cordoned the whole road and pushed us all down the road."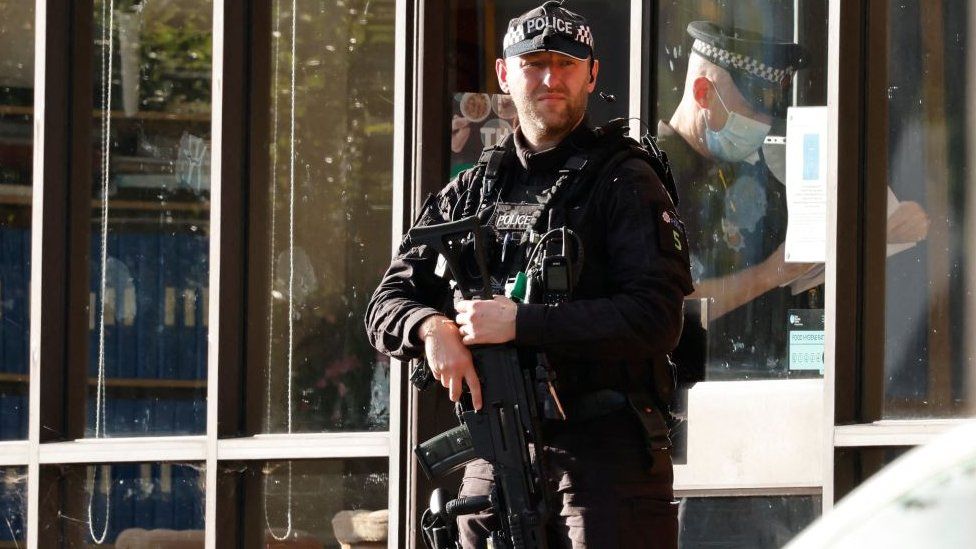 At 2.13pm, an air ambulance arrived at the nearby Belfairs sports ground to move Sir David to a hospital.
However, members of his team began to fear the worst, as paramedics remained at the scene rather than moving towards the helicopter. For almost two-and-a-half hours they battled to save his life.
But just before 3pm, Essex police confirmed that Mr Amess had died at the scene.
As news of his death filtered through, tributes began to pour in from friends, constituents and fellow MPs.
Prime Minister Boris Johnson said that Amess was "one of the kindest, nicest, most gentle people in politics".
Local councillor Dan Nelson told the BBC that Sir David had died "doing what he loved best, and that was to help residents of Southend West".
Rofique Ali, a local Conservative Party member, described the MP as his best friend in the world.
"I have known him for many years, and he was so kind to everyone," he said. "I can't forget David."
And resident Melanie Harris left a card at the scene that read: "What has the world come to? What a senseless waste of a charming, witty and kind and gentle soul who deserved a lot more than to be snatched from life."
"You were always a pleasure to speak to. Thank you for restoring my faith in politicians."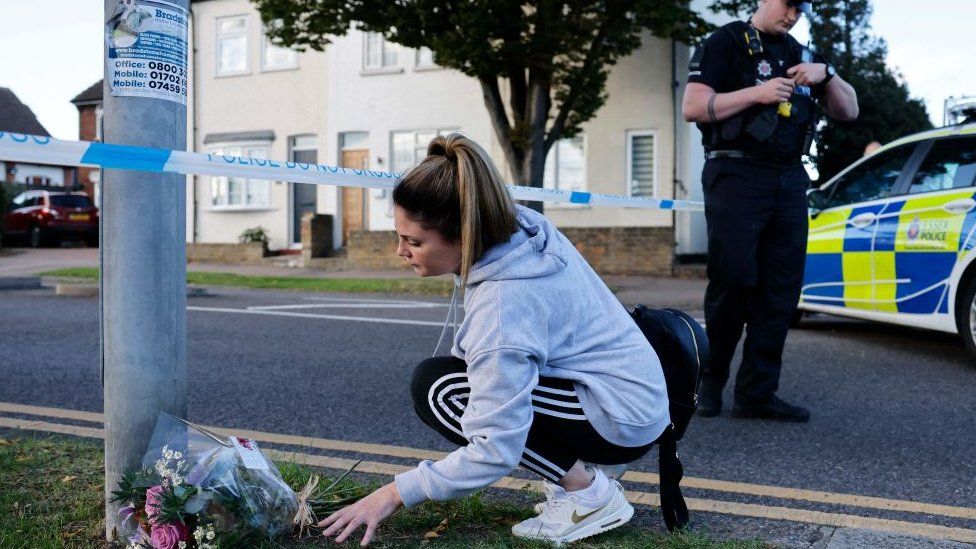 By mid-afternoon a full "Gold" command meeting was activated by police chiefs back in London – meaning some of the most senior and experienced leaders of major incidents were sitting around the table to work out how to respond.
Joining the discussions were representatives from the security service, more commonly known as MI5, whose investigators sit side-by-side with detectives on many investigations.
And watching on from government was Home Secretary Priti Patel – a close personal friend of Mr Amess. She said later on Twitter that she was devastated to learn of his death.
The conference was an inevitable decision: the killing of an MP is not an everyday occurrence – and the last time it happened, when Jo Cox was murdered in 2016 – it was an act of terrorism by a far-right extremist.
As daylight faded, members of the press gathered to hear police announce that an investigation was under way. Senior officers appealed to the public for information.
"This is a shocking and utterly despicable attack against somebody who was an outstanding MP and has worked tirelessly for their community for many, many years," said police commissioner Roger Hirst.
He added that members of Metropolitan Police's specialist Counter Terrorism Command would now try to make sense of an utterly senseless killing.
By early evening, investigators – still seeking a motive – had at least established the suspect's identity. A government source told the BBC the man arrested is a British national who, according to initial inquiries, is of Somali heritage.
Meanwhile, at St Peter's Roman Catholic Church, locals gathered together to remember the man who, for many, was the only MP they had ever known.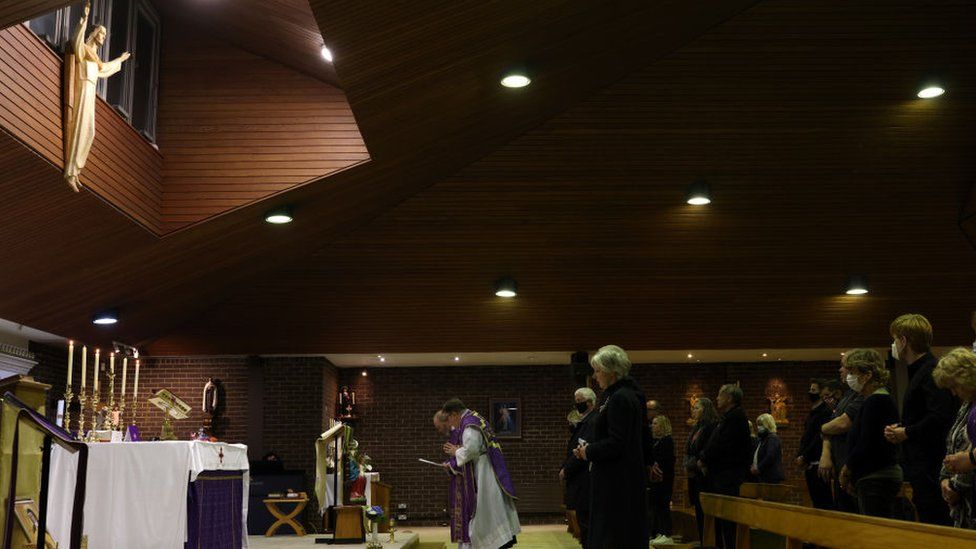 Father Jeffrey Woolnough told the service: "Have you ever known Sir David Amess without that happy smile on his face? Because the greeting he would always give you was always that happy smile."
And he paid tribute to Sir David as a man who carried with him "that great east-London spirit of having no fear, and being able to talk to people and the level they're at".