And in the Commons, MPs pay tribute to Sir David Amess saying they have lost a much-loved colleague.
The family of Sir David Amess have visited the church where he was killed to see some of the many tributes left in his memory.
Sir David's widow, Julia, was comforted by family members as she spent about 10 minutes reading messages at Belfairs Methodist Church in Leigh-on-Sea.
He vowed Sir David's death would not "detract from his accomplishments as a politician or as a human being".
A minute's silence was held earlier and a service took place at St Margaret's Church, next to Parliament, where the Archbishop of Canterbury gave an address.
Sir David, 69, the Conservative MP for Southend West, had been meeting constituents when he was stabbed multiple times on Friday. A 25-year-old British man, Ali Harbi Ali, is being held under the Terrorism Act.
The father-of-five's death has sparked an outpouring of grief, not only within his local community in Essex where he had been an MP for nearly 40 years, but from across the country.
The church where he was killed is surrounded by large piles of flowers, heart-shaped balloons and framed pictures, and people continued to lay tributes on Monday.
During their visit, the family held each other as they read some of the messages. They later bowed their heads and formed a semi-circle around the church's minister, the Reverend Clifford Newman, who spoke to them privately.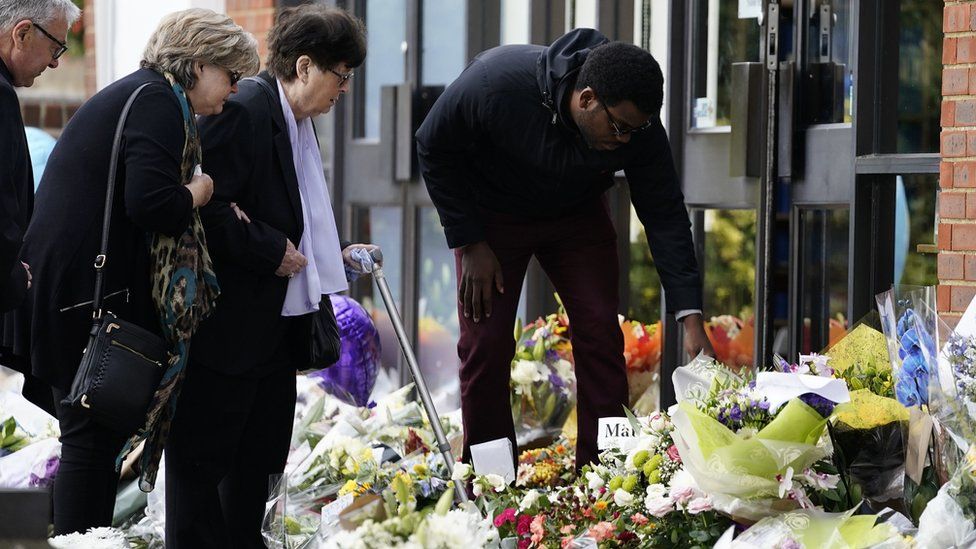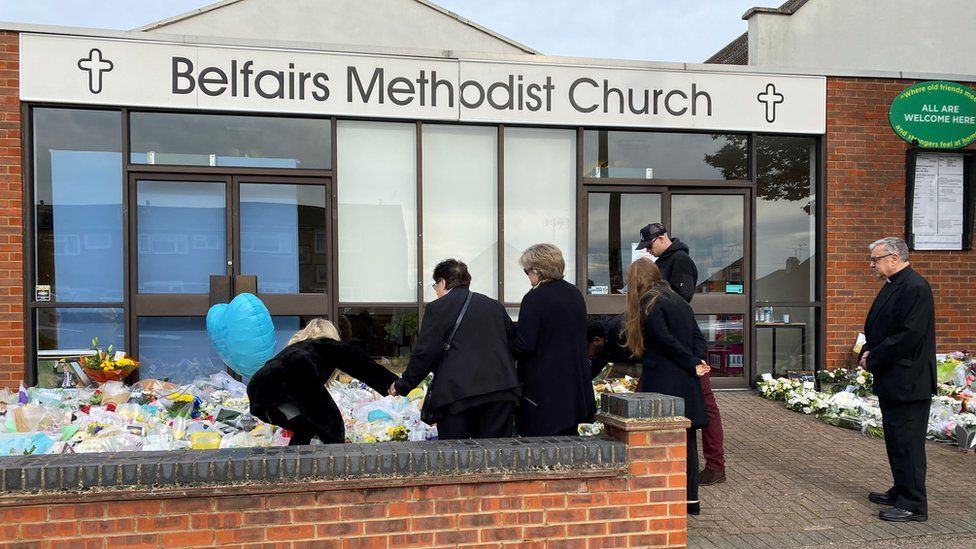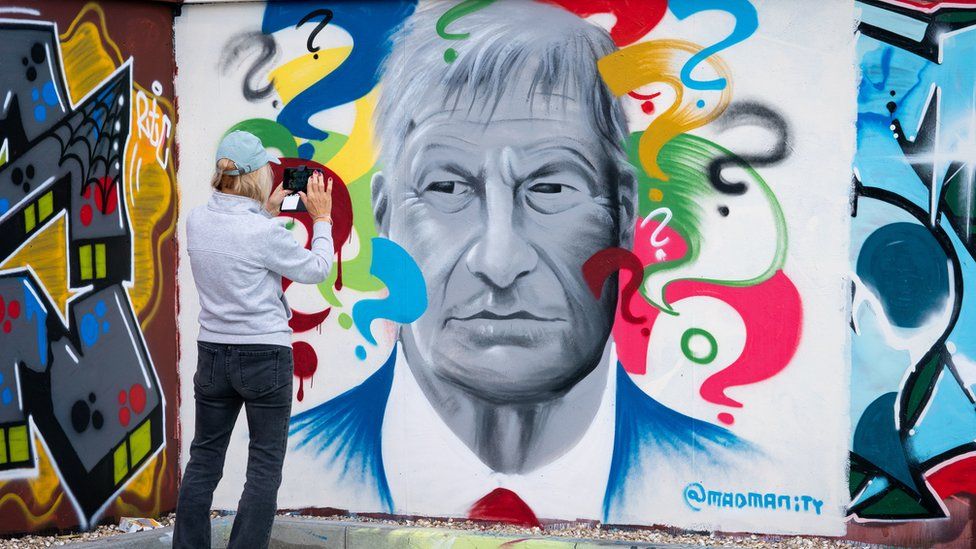 Mr Johnson said Sir David was a "seasoned campaigner of verve and grit" who "never once witnessed any achievement by any resident of Southend that could not somehow be cited in his bid to secure city status for that distinguished town".
MPs spoke of their grief at losing a much-loved colleague and friend in Sir David.
Conservative former prime minister Theresa May said he gave an "extraordinary" service to his constituents.
"I suggest to anybody who wants to be a first-class constituency MP that you look at the example of David Amess," she said.
Conservative former minister Mark Francois described Sir David as his "best and oldest friend in politics".
Mr Francois added: "Everything I ever learned about being a constituency MP I learnt from David Amess."
Labour MP Kim Leadbeater, the sister of Jo Cox – the MP murdered by a right-wing extremist five years ago – said her thoughts were with Sir David's family.
"I do have a unique perspective on what those closest to David are going through and I want to send them my love, support and solidarity, from myself, my parents, our family, and the people of Batley and Spen," she said.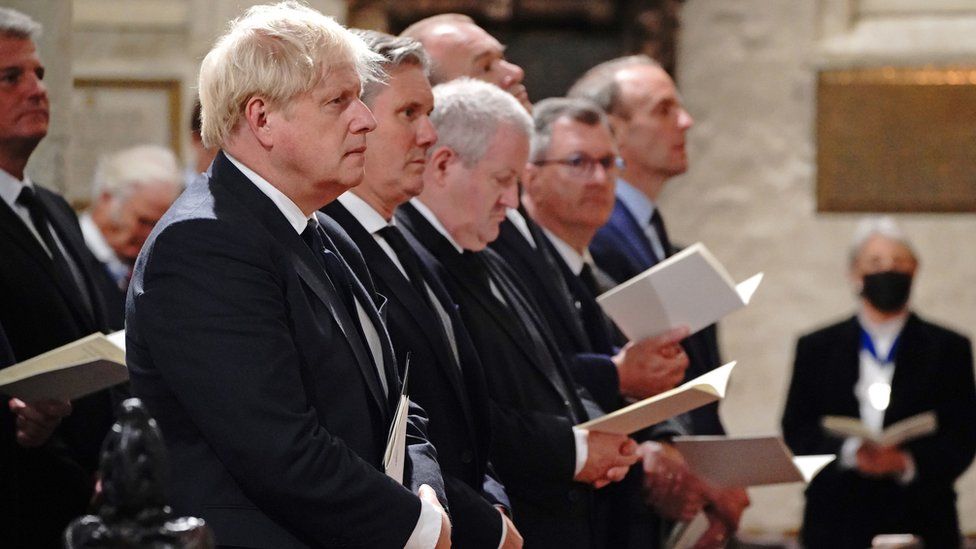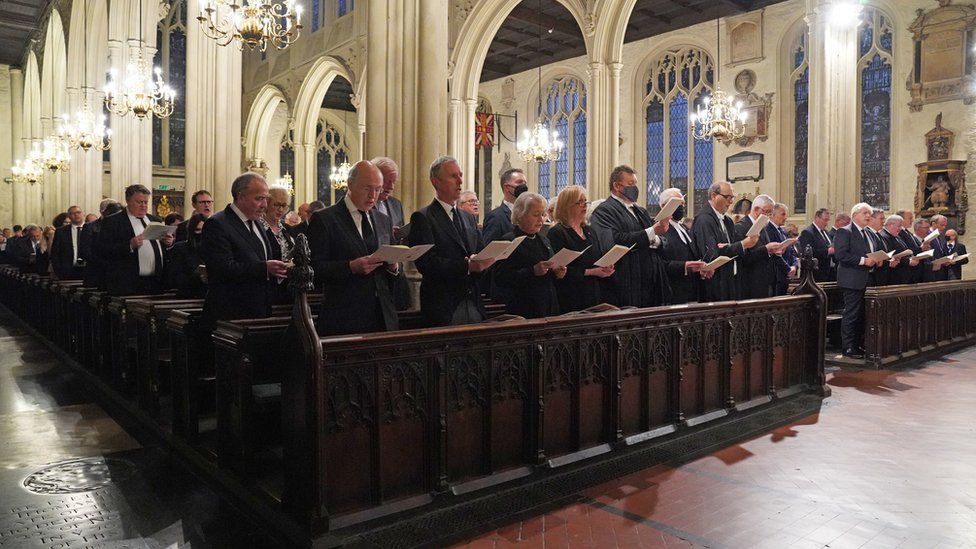 At the weekend, Sir David's family released a statement saying the wonderful tributes to him had given them strength, but they were still trying to understand "why this awful thing has occurred… nobody should die in that way".
"We are absolutely broken, but we will survive and carry on for the sake of a wonderful and inspiring man," they said.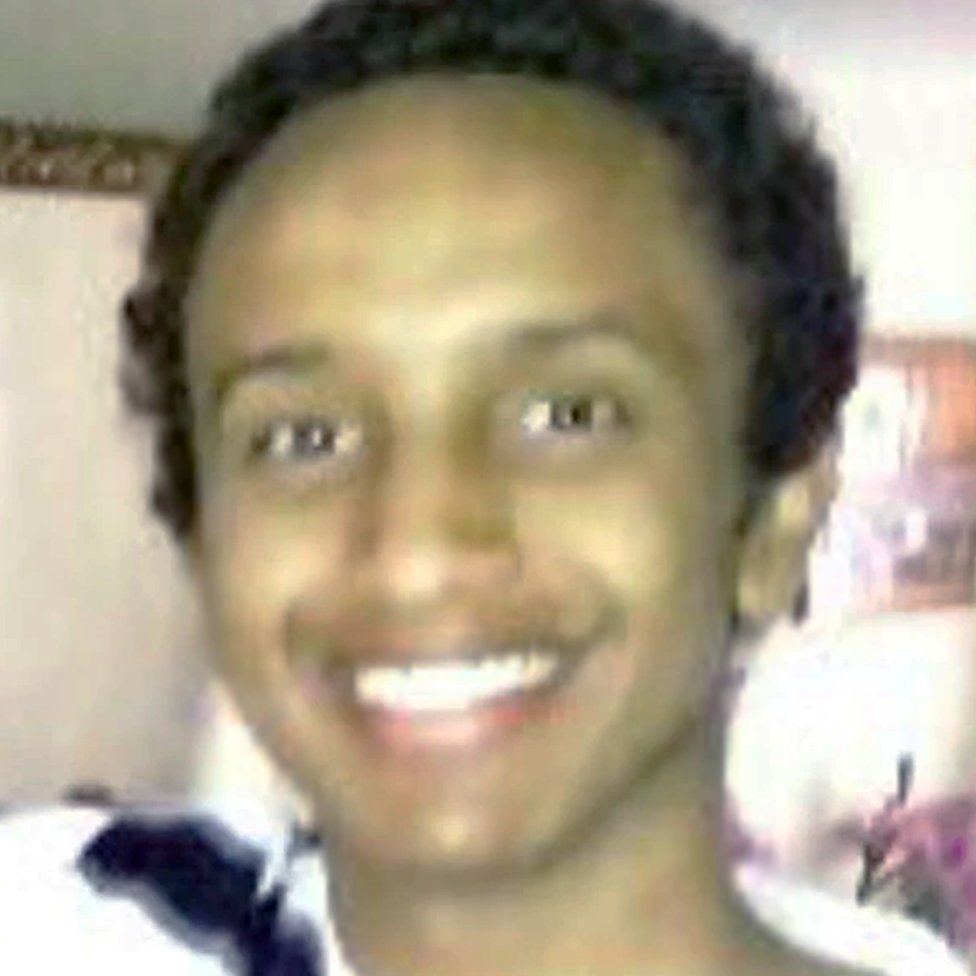 Detectives are continuing to hold Ali Harbi Ali, a British national of Somali heritage, at a London police station and have until Friday to question him.
The BBC has been told he was referred to the counter-terrorist Prevent scheme some years ago, but was never a formal subject of interest to MI5.
It is also understood that his father, Harbi Ali Kullane, who was previously an adviser to Somalia's prime minister, has been visited by police who have taken his phone for analysis.
Police officers spent the weekend searching three addresses in London.
Many MPs have spoken of a toxic and increasingly polarised political culture where online trolling has become widespread, including personal insults and direct threats of violence.
Labour's Tulip Sadiq told the BBC that all MPs, especially women, are subject to attack and that her mother feared for her doing the job.
Sir David's neighbouring MP in Southend, Conservative James Duddridge, said "no-one that loves me, none of my friends, would want me to be a Member of Parliament" but they support him because it is "honourable" and "worthwhile".
Deputy Prime Minister Dominic Raab said he had received "three threats to life and limb" over the past two years – but he does not want to "allow those who attack our democracy" to win.
Asked whether MPs' surgeries with constituents should take place online, Downing Street said the murder could not "get in the way of democracy".
"MPs may rightly be concerned about security, they've been contacted by police to discuss their activities and events so their arrangements can be reviewed," the No 10 spokesman said.