Adam Bennett AKA Snazzy Phade is taking over the music industry!
Want to get started as a recording artist but aren't sure where to start? Adam Bennett aka Snazzy Phade is a freelance audio engineer, a recording artist, and owner of the record label Phaded Records. As he worked through getting himself started independently, he has learned invaluable information from the industry and wants to help educate new artists so they know what to expect and be prepared for their journey of being a recording artist.
Under the guise of Snazzy Phade, Adam has released over forty-five songs on Spotify, iTunes, Apple Music, and more. With his experience as a recording artist, he has built a stronger skill set to help other artists. He has mixed and mastered all of his songs and is currently working on his debut album, but wants to further branch out in his audio engineer work for new and even more established artists. Getting a great sounding song comes with a price!  Using the right gear and software is key to finding your sound as an independent artist and high quality equipment makes a world of difference.
While his experience in recording and audio engineering is fairly high, he knows that the most difficult part of being an independent artist is marketing yourself. There are many aspects like budgeting, online presence, and promotion that all have to be considered before and after you release a song. Lucky for you, aspiring artist, Adam knows the process and can guide you along your way.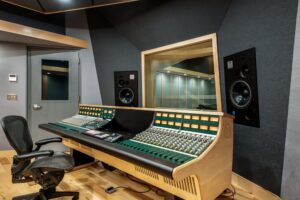 For new artists, there are a lot of things that can be overwhelming. "For someone just starting out in the music industry I would tell them to invest in themselves and their future. If they are serious about their career in the music industry you have to go all in and invest into yourself.  Learn how to do it right and how to get paid for what you create. Too many artists pay thousands on studio fees, engineer fees, producer fees, and music videos, and don't spend anything on actually promoting it! Learn what labels do for their artists. There's a learning process to everything new someone starts in their life but if you put in the time and believe in yourself you will reach your goals," Adam explains. 
Adam has some good experience reaching his goals as of late. His current motivations as an audio engineer and recording artist started young. At an early age Adam had a deep love and passion for music. Growing up he was heavily inspired by Bay Area music and RnB/Rap. "My first CD ever was Confessions by Usher in 2004," he said, remembering. He attended SAE Institute/Expressions College in Berkeley, CA for audio engineering and music production and graduated in 2016 as class valedictorian with the highest overall GPA and the most hours logged in the class nearly doubling everyone else that attended. He is also Pro tools 101 Certified and only uses the best quality plugin bundles to mix and master for his clients.  "I am proficient with Abelton, Pro Tools, Logic, and Cubase, I've worked with a wide variety of high quality gear at high quality venues for my audio engineering gigs like microphones, audio processors, outboard gear, live sound gear, live sound setups, and concert audio.
 From capturing audio, manipulating audio, mixing live audio, concert setups, recording artists, to using million dollar audio consoles, Adam has been reaching new heights. "I am pretty versatile when it comes to mixing and mastering. I use the Izotope Mix and master bundle, waves plugins, UAD plugins, all run through a Universal Audio Apollo Twin Duo. I have a song out with Keak da Sneak who has a decent following and songs with e40/too short." 
Research is really important to have done before you choose a record label and audio engineer.  Taking the time to weigh the options are part of picking the people right for what you want. Since Adam is more on the side of RnB and pop, he will do really well if you also share that genre. On the other hand, having someone working between many genres can make your sound more unique and with Adam's versatility and experience, this could be a match made in heaven.