How AmourPrints Went From Small Etsy Shop to a Projected $6 Million Dollar Business
Having the drive to start and scale a business from $0 to a multi-million dollar empire is no easy feat. There are no shortcuts by starting from scratch, and there are many ups and downs until you learn your business and its market. Kirstie Rickerts, founder and owner of AmourPrints, has built a custom art print and decor business with no money or education.  
Kirstie had to learn a lot before she could start a business, one thing was overcoming her shyness. Starting out as a balloon artist at a restaurant at 17, Kirstie was quickly overwhelmed and anxious. She was shy and was threatened to be fired by her boss if she wasn't outgoing and overly friendly. This led her to believe in herself for the first time ever and she made it through her first day just by doing that. This new experience was empowering, she became more open to trying new things and being led to do things that she never thought that she would. This pivotal experience was the domino effect for the creation and start of AmourPrints.
AmourPrints started as an Etsy shop in 2013 by Kirstie. She was making custom canvas art prints, fulfilling orders, and taking care of customer service by herself at first. "I was so excited about my first sale! I was having steady orders until a ridiculous error on Etsy caused my shop to be closed down." Both Kirstie and her fiance dropped out of college to run her business. "This was our dream and we were excited about it. However, our families were not. I tried to go to college to please my family, but I couldn't, it wasn't what I wanted. I wanted this business instead," she says.
Despite their business growth at the beginning, Kirstie and her fiance were still faced with their families concerns and opinions about them not going to college. "It was difficult because this was our dream, and they kept encouraging other careers for us, but we didn't want that," she said. Shortly after the two got married, they had a sign of good faith when their business had its first big month and they could miraculously live on their own. During the time they moved out, they put even more into their business. By the next year, they were able to buy their first home and Kirstie and her husband had their daughter who is now 4 years old.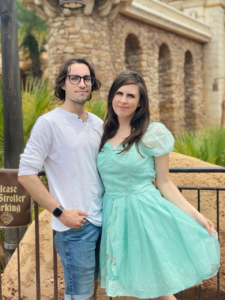 Shortly after AmourPrints biggest successful year they had their Etsy shop accidentally taken down again. After so many failed attempts at trying to get their shop back up, they decided to just move over to Shopify. "Shopify was not easy like Etsy and you had to do everything from the ground up. Etsy did the work for you while Shopify was your template. I had to learn Web design dev, seo, hiring employees, ads, and much more," Kirstie explained. "Our first year we were able to make $50K. My husband focused on the designs and production while I did everything from A-Z. Our second year we did $100K." 
When COVID hit and everyone went into lockdown, Kirstie and we didn't know if their business would survive. She began searching for ways to get their product out there for more visibility and effective strategies. "I upgraded to shopify plus and took a risk and invested all of our money. Last year, in 2020, we somehow miraculously made $3.6 million dollars and this year we are on track to do $6 million," Kirstie says, beaming. "I have worked so hard and I give God the credit for helping me through this. Our families now are very proud of us and understand why we didn't give up now." 
"We really believe that God led us to start and grow this business," Kirstie says. "I've never worked harder on something, and I feel like this was our calling. It wasn't easy, but it was ours."